Community Forum
Join a conversation, pose a question, or help a fellow user: The best place to discuss all things Karelia.
Setting up publishing issue
I am trying to set up my publishing information onto my server. I am not able to do this even thou I have all the information in the dialog boxes correctly. It worked in iWeb on an older server, but has yet to work properly not only here, but in iWeb.  When in iWeb, i had to do it thru an FTP.  If I need to, I will continue but because this is an updated version (my iWeb was an older one), I assumed that i wouldn't have this issue. If publishing via FTP, where might I find the files to do so? I know where the entire file is located, but the location for individual files is an issue.  I would rather publish via Sandvox, but I keep getting an error "Server returned Status Code 404".
Thank you
macdafydd

Avenger
Re: Setting up publishing issue
You can publish locally and use those files with FTP. Use the Sandvox menu Publish>Publish to Folder… and you will be asked to where on your hard disk (or other storage media) you wish to publish.
Publishing directly via Sandvox is much more convenient, of course. The host setup should look something like this: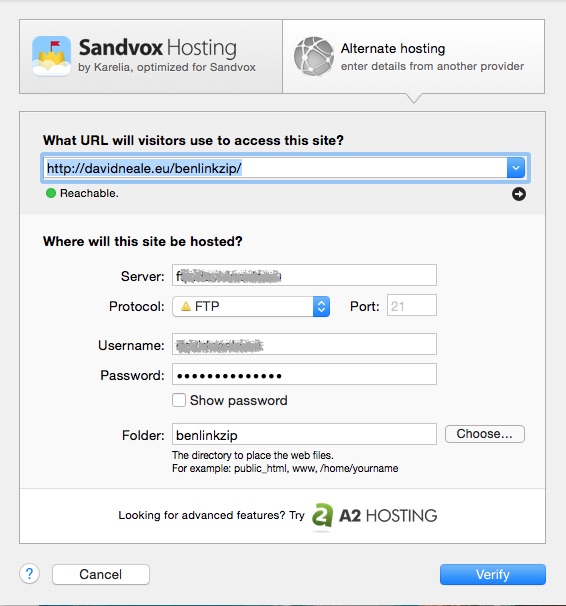 You might wish to let us know the name of the host service to which you are trying to publish. Perhaps someone here already publishes to that service and can offer better help.
---
It says "Avenger," but I am just a Sandvox user who has been assigned the title of Avenger here in order to be able to delete spam messages. http://davidneale.eu/
Geoffo

Super Hero
Re: Setting up publishing issue
Even when the bottom button button does NOT say continue or whatever because verify failed, just click on it and continue anyway -- and go right ahead with publishing your site direclty from Sandvox. This works for me. Try it.
Cheers, Geoff
---
Down and out in Rabaul in the South Pacific - rabaulpng.com  :D
Re: Setting up publishing issue
THANK YOU GEOFFO! it worked!
Geoffo

Super Hero
Re: Setting up publishing issue
StephanieHansen wrote:
THANK YOU GEOFFO! it worked!
Thank Heather of Karelia -- she gave me that solution a while back.

Cheers, Geoff
---
Down and out in Rabaul in the South Pacific - rabaulpng.com  :D
MacT

Member
Re: Setting up publishing issue
I am having an ongoing problem setting up the host.  We recently changed to Gridserver at the suggestion of the IT specialists.  I am continually receiving the message "Server returned status code 404". 
I have noted Geoff's comment to continue, but my only two options are to Cancel or verify.  Any thoughts or suggestions.
By the way, how do I include a screenshot with the reply?
Regards,
Mac